State's winning streak may be coming to an end, writes Professor I Nelson Rose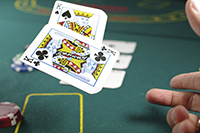 A LITTLE-known fact, known by few: Texas has poker clubs. These are by no means just a couple of tables in the back of a bar. The Lodge Card Club in Round Rock outside of Austin has more than 60 tables.
The games - mostly Texas Hold 'em, naturally - are played for cash. PokerAtlas in Houston is advertising a no-limit game, with $10 and $25 blinds and a $2,000 minimum buy-in. The Lodge runs tournaments with a guaranteed $500,000 in prizes.
Read the full article in the May issue of InterGaming
To receive every print and digital issue of InterGaming, subscribe here