The G2E trade show in Las Vegas is the next exhibition venue for SuzoHapp, the technology supply company.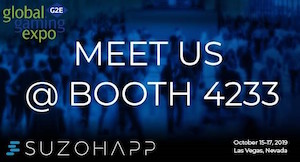 The show, held from October 15-17 at the Sands Expo venue in the gambling capital, has been a regular stop for SuzoHapp for 20 years and this year the company will bring two new senior people to the show.
Sim Bielac, the new president of global gaming and amusement, and Todd Sims, the new vice president of gaming and amusement for North and South America, will bring their considerable experience in the gaming field to the show.
Said Bielak: "Gaming has been at the core of the SuzoHapp business for decades. We understand that manufacturers and operators value innovation to drive growth but also need simplicity and efficiency to keep operating costs low."
SuzoHapp has a new global approach to the gaming and sports betting business. Leveraging the feedback from its international customer base and its engineering team, the company brings customer-driven innovation to the market. New products to be introduced at the show this year include the Newland line of scanners, new printer models from Nanoptix, the high-tech lock system e-LockPro, custom lottery and sports betting AIOs and an expanded VisionPro monitor line.