In a surprise twist to the debate in California over the choice of online sports gambling proposals, a new survey suggests that neither of them will be acceptable to the state's voters.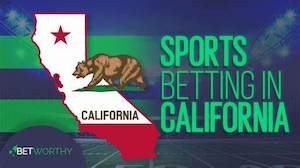 California is the big prize for the sports betting industry. It is not yet open to that medium of gambling, but lawmakers are proposing to admit it.
The big debate is whether it should be the free and open market that is so far favoured in most of the other US states, or whether it should be in-person only at Native Indian casinos.
The matter is being put to the test next month in a vote, but this week a survey conducted by UC Berkeley Institute of Governmental Studies, co-sponsored by the Los Angeles Times, suggests that there is every chance that neither will find favour.
Millions of dollars have been ploughed into a marketing campaign by both sides, but the survey has shown that the likely voters were overall more opposed to the measures.
Proposition 26 would permit in-person sports betting at tribal casinos and horse-racing tracks, but it has only drawn 31 per cent of support from voters, compared with 42 per cent opposing.
Proposition 27, which would permit online sports betting only, won 27 per cent of the likely voters with 53 per cent opposed. This proposal is backed by big companies such as DraftKings and FanDuel.