The Pennsylvania Gaming Control Board has issued three fines totalling $280,825 to two gaming operators.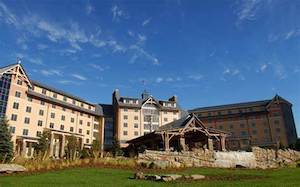 Two approved consent agreements, producing fines of $160,000 and $100,825, have stemmed from negotiations between the Office of Enforcement Counsel and Mount Airy Casino Resort (pictured) in Monroe Country.
The third fine of $20,000 was at Pilot Travel Centers and PJF Southeast, operator of two video gaming terminal venues.
The Mount Airy fines are for three instances of under-age gambling and the failure of the casino to file 32 corporate or individual renewal applications by the due dates.
The smaller fine was for failing to notify the board of a change in control of the licence.