A growing force in European distribution for the gaming industry is Germany-based Spirit Gaming, founded by CEO Frank Ziegler, which now represents Interblock, Aruze Gaming, Synergy Blue, Win Systems, StylGame and Moniko.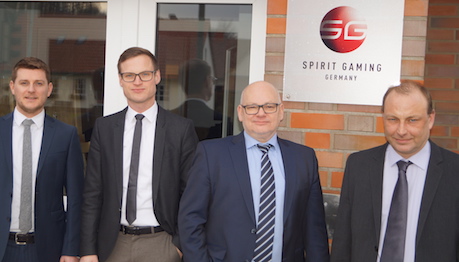 The company, with headquarters at Kalletal, North Rhine-Westphalia, considers itself more than a distributor, however. Ziegler said: "We are more than that - we are innovators; we look to bring new technology to the market, making use of our fundamental experience and knowledge. That is why we also offer customer-specific and in-depth market research."
The 10-year-old company carries out market research, sales, marketing, technical installations, maintenance and support that includes a 24/7 hotline. Ziegler himself has held key positions in both manufacturing and operating in the industry and has specialised in introducing new technologies to the industry, such as ticketing and fully electronic casinos.
He is supported by Torben Kreienbrock, who handles sales, Philip Petermann, who looks after the technical department, and Vitali Philippi, running administration. All have experience in the gaming industry. The picture shows, left to right, Vitali Philippi, Torben Kreienbrock, Frank Ziegler and Philip Petermann.