The founder and chairman of global casino operator Las Vegas Sands, Sheldon Adelson, has died at the age of 87.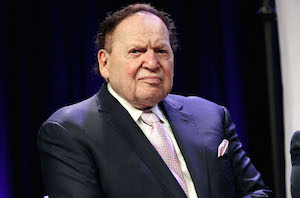 He stepped down from his role as chairman last week to resume treatment for non-Hodgkin's lymphoma, a condition for which he underwent attention in 2019. Adelson was at one stage the third richest man in the world.
His funeral is being held in Israel and a memorial service will be held in Las Vegas at a date yet to be announced.
Adelson grew up in Boston and created a group of casino companies from scratch that today employs 50,000 people. He was the son of Jewish immigrants of Ukrainian and Lithuanian descent. His mother had immigrated from the UK and Adelson was able to claim that one of his ancestors was a Welsh coal miner.
He was the majority shareholder in Las Vegas Sands, which owns the Venetian and Palazzo hotel and casinos on the Strip and other venues in Singapore and Macau. He also owned the Las Vegas Review-Journal newspaper. Forbes in 2018 ranked him the 15th wealthiest man in the world, worth $35.5bn.
He gave $218m to Trump's presidential campaign and Republican causes in the US in 2020.
American Gaming Association president and CEO Bill Miller said: "The passing of Sheldon Adelson is a tremendous loss to the gaming community. Mr Adelson was a true visionary and pioneer of modern casino gaming for more than three decades. From Las Vegas and Pennsylvania to Macau and Singapore, his mark is indelible.
"I had the pleasure of knowing Mr Adelson for more than 15 years, long before joining the American Gaming Association. It is his leadership and generosity that stand out the most to me. There's no greater example of this than serving his community and prioritising his employees' well-being during the last year as our country and industry grappled with the global pandemic."