A free report on the Macau gambling market has been launched by ICE365.com, part of Clarion Gaming's digital technology investment programme.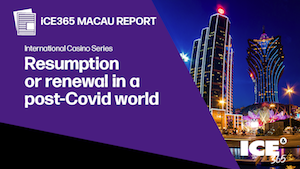 The scheme is designed to help the international industry develop and explore commercial opportunities year-round, drawing on expert insight from industry leaders.
The report, compiled by Chris Wieners of Hogo Digital, Alldad Trash of 2NT8 and Annie Slara from 86 connects, looks at the strategic challenges facing Macau and its casino concessionaires.
Robin Harrison, B2B editor at Clarion Gaming, said: "Our aim is to provide the industry with knowledge on who's playing in Macau, what makes the market so attractive, as well as its unique elements.
"We are indebted to Chris Wieners, Alidad Tash and Annie Siara for providing the detailed knowledge and cultural insight that only industry professionals with hands-on experience of working in Macau are qualified and able to provide."