The state government of Queensland in Australia says it still hopes to approve at least one more integrated resort on the Gold Coast, south of Brisbane, as it continues its push to boost the state's tourism attractions.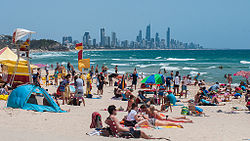 It is now three years since Queensland granted two provisional gaming licences to Tony Fung's Aquis and mainland China's ASF Group. Neither has come to fruition, with Aquis abandoning its plans while ASF has revised its original AU$7bn proposal to a smaller $3m plan it says addresses concerns of local residents.
The only new project officially under way is Brisbane's Queen's Wharf development, a joint project between Star Entertainment Group, Chow Tai Fook and Far East Consortium, while SEG is also nearing completion on an AU$850m upgrade of its Gold Coast integrated resort.
But according to a report by Forbes, the Queensland government remains highly interested in the development of another Gold Coast casino. "We firmly believe there is enough demand for a second casino," Queensland Projects chief executive David Edwards told Forbes. "With theme parks, it's proven that clustering drives visitation. We think that having a variety of offerings and a lift in offerings will grow the pie.
"Everyone in the tourism industry knows that the Gold Coast is a prized and exciting Australian location."