Steve Treharne, managing director of Prestige Gaming Furniture, the UK-based manufacturer of casino seating and tables, has died.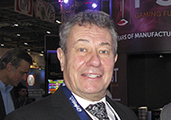 Steve was a well-known figure in the international gaming industry, attending most of the major trade shows around the world over the last 20-plus years, as well as speaking at conferences and seminars.
PST is based in South Shields in the north-east of England and went into the manufacture of casino tables five years ago after building up a 50-year reputation for its chairs.
His death came after a short illness. Funeral details will follow.