Gary Platt Manufacturing has supplied nearly 15,000 stackable, banquet-style chairs to Caesars Entertainment.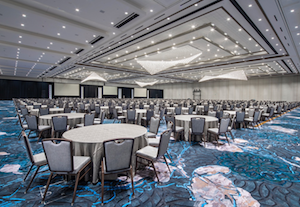 The chairs are exclusively from Gary Platt's Sierra Nevada Hospitality line and now grace the floor of the new Caesars Forum event space. In addition to its extensive line of hand-crafted casino seating, Gary Platt also represents the diverse portfolio of seating solutions from Sierra Nevada Hospitality.
The Sierra Nevada Hospitality line features more than 100 different chairs for a wide variety of needs across the operation, including bars, restaurants and banquet/convention spaces.
Caesars Entertainment selected the Sierra Nevada Hospitality Forum model because of its unsurpassed quality and flexibility in customisation. Gary Platt worked closely with Caesars to customise the chair and further enhance the convention areas' look and feel. "When a property designs a space, each detail is carefully considered and every inch is given thought to create the ultimate experience for the guest," said Gary Platt CCO Joshua Corrick.
"We work the same way whether it's our world-famous casino seating solutions or our new hospitality division. Our attention to detail is unsurpassed. That results in seating solutions that perfectly complement the designers' vision for the space."