Caesars Palace Las Vegas casino's lavish surroundings now have the added comfort of new casino seating from Gary Platt Manufacturing.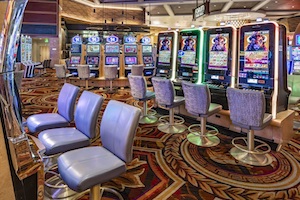 Gary Platt recently installed 1,500 units of its Lido chair model at Caesars Palace, replacing previous Gary Platt chairs that were installed more than eight years ago.
"The Caesars brand and design attracts players from all over the world," said Joshua Corrick, Gary Platt CCO. "Our mission is to make players as comfortable as possible so they can stay and enjoy their gaming experience and we are thrilled to extend our relationship with Caesars Entertainment."
Caesars selected Gary Platt's Lido low back model with a static height pedestal base. Because each chair Gary Platt's artisans produce is hand-crafted, the design was tailored to complement the Caesars brand.