Pilot Games, the producer and operator of innovative pull tab games, has been hosting the annual e-gaming PiCON conference since 2015 for current charity customers, players and bar owners.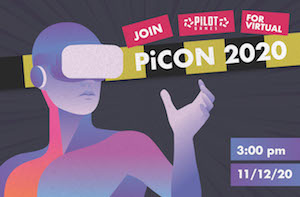 The PiCON event offers great opportunities for everyone to network and learn more about current Pilot games, new innovative products coming to the market in the next year to help boost revenues and raise money in support of charity and local communities.
Each PiCON event features an Exhibitor Hall showcasing Pilot's distributors and vendors who have affiliations with Pilot or the charitable gaming industry and representatives of state agencies.
A typical PiCON event schedule consists of: continuing education, live Pilot TV broadcasts, Pilot presentations, happy hour networking, dinner and entertainment to wrap up the event. PiCON event entertainment has included The Beach Boys, Blues Brothers and Morris Day and the Time and in 2020 (rescheduled for 2021), our entertainment will be Willie Nelson.
This year's PiCON event was originally scheduled for August, but plans have changed due to Covid. So to keep everyone networking PiCON decided that, while not in love with virtual events, it is vital to continue to deliver event in a virtual format. PiCON this year will have a truncated version, lasting about an hour, starting at 3pm on November 12.
There will be new product showcases and break-out sessions on various topics that will be of interest to virtual event attendees. More importantly, Pilot Games will explain how you can entertain your customers and at the same time help local charities.
PiCON will focus on new games, new Pilot HD products and PlayerConnect. Event attendees will be able to download the PilotGames.com Player Connect app and play a demo version of tournament games as an introduction to Pilot Games Championship Series 2020.