Gaming and hospitality operator Parkwest Casinos has been granted $210m to cover the purchase of the Bicycle Hotel and Casino in Bell Gardens, California, with cash left over to plan more acquisitions.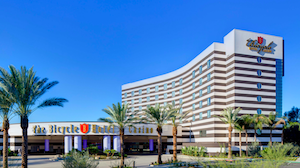 Run by John Park, Parkwest Casinos bought the property for about $103m in April. The company is planning to rename the casino Parkwest Bicycle Casino, according to documents filed with the California Gambling Control Commission, which approved the sale back in March.
The property was sold by entities linked to Carter Management Group and Thousand Palms Enterprises. It has 185 poker and other card tables across a 100,000sq.ft poker room and 99 hotel rooms.
The sale took place after a years-long money-laundering investigation into the casino, which resulted in the property agreeing to pay $500,000 to settle federal violations last November.