Novomatic's new Cash Connection Edition 1 has been installed at Spielbank Hamburg's four casinos in Germany.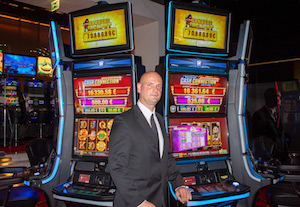 The slot has been equipped with four titles, a progressive link and integrates with the chain's giant Hamburg Jackpot.
The Casino Esplanade, the flagship of the group, and its Casino Reeperbahn, Casino Mundsburg and Casino Steindamm, are the major casino venues in the north Germany city and Novomatic products are familiar across their gaming floors.
The latest update to 22 Panthera 2.27 upright cabinets have been fitted with the multi-game jackpot mix Cash Connection Edition 1 on eight slots at the Esplanade, five at the Reeperbahn, four at the Mundsburg and another five at the Steindamm, but not all of the units can currently be turned on simultaneously through the pandemic distancing regulations.
Said Frank Hermann, operations manager at Casinos Esplanade and Mundsburg: "With the combination of multi-game offer, linked progressive and wide-area progressive, we are providing our guests with a new and extended selection of games but maintaining the same number of machines on the floor.
"The win levels and the big jackpot makes the system more interesting and we think the expanded offer will be appreciated by our guests."