There is a new website to cover all of the products of adp Gauselmann, Merkur's manufacturer.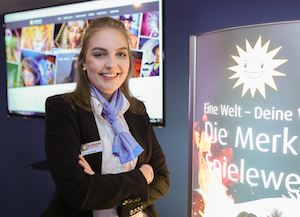 Under the slogan One World – Your World, the new site can be found at www.merkur-spielewelt.de.
It covers all of the company's current products, including the M-Box, M-Motion, Merkur Magic and the Merkur Multi and Merkur Champion ECup.
Annika Portele, project manager, said: "The adp product portfolio has grown so dynamically in recent years that it was time to give a new, common home for all our brands. The site shows the guest how a few clicks can provide a comprehensive guide to everything in our portfolio and new games and cabinets."
Pictured: Annika Portele, project manager brand management at adp Gauselmann, presents the new Merkur gaming world