The National Lottery breached the £4bn mark in sales for the first time over the first six months of the financial year.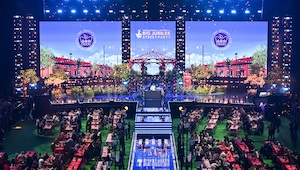 The figure is the highest the Camelot company has tallied in its 28-year history.
It also translates to £102.5m more in sales than last year's total, an increase of 2.6 per cent on that front.
The record performance also means the National Lottery reported its best-ever first-half returns to good causes of £956.5m, up £72m – or 8.1 per cent – on last year.
That means the total generated for good causes since The National Lottery launched in 1994 under Camelot is £47bn.
Camelot said its record half-year was driven by digital sales and the company's mantra of encouraging people to 'play a little'. In fact, more than 32m people played National Lottery games over the period, with average weekly spend across all games and channels broadly in line with last year.
Sir Hugh Robertson, Camelot chairman, said the results "extend our track record of delivering for people across the UK."
He added that he is "confident" that the National Lottery "has never been in better shape", with just over a year to go until the start of the next licence period.
In total, the National Lottery awarded over £2.3bn in prize money to players over the first six months of the year – up £28.6 million – and created 169 new millionaires.
Camelot CEO, Nigel Railton concluded that the National Lottery "continues to benefit the whole of the UK", adding that the results "demonstrate our ability to adapt quickly and decisively to fast-changing and challenging economic conditions."