Wall Street experts are predicting a reduction in the number of casinos in Atlantic City.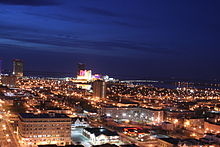 A panel of analysts speaking at a regional gambling conference last week said a market that has already lost one casino this year still has too many.
Adam Rosenberg, a managing director with Goldman Sachs, said "reducing capacity" is already under way, which he considers positive.
Srihari Rajagopalan, a debt analyst with UBS, agreed. "You are seeing the market right-size, which is a positive," Rajagopalan said. "There are unprofitable casinos shutting down."
Earlier this month, the CEO of Caesars Entertainment, which owns four casinos in the city, made the same point. But Gary Loveman did not say whether he expects to sell or close one of his Atlantic City properties or engage in another Atlantic Club-style takedown of someone else's property.
Caesars and Tropicana bought the Atlantic Club out of bankruptcy, divvied up its assets and closed it on January 13. Several analysts listed Showboat and Trump Plaza among the most vulnerable of Atlantic City's11 remaining casinos.