The reopening of MGM Resorts International's casinos has been completed in the US and it will include one totally smoke-free venue.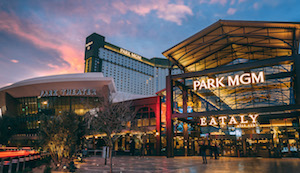 That will be the Park MGM and NoMad Las Vegas, opening from September 30 and it will be the Las Vegas Strip's only smoke-free casino resort.
Bill Hornbuckle, CEO, said: "Opening Park MGM and NoMad represents significant milestones as they are the last of our properites to welcome back employees and guests. The last six months have presented extraordinary challenges and I could not be more proud of the MGM team for the tireless effort required to get us there. There is much work ahead as we remain focused on the health and safety of our employees and guests, but this is an important moment for us."
The Park MGM is the newest destination resort on The Strip and was only completed in late 2018. NoMad is the luxury "hotel within a hotel."
Anton Nikodemus, president of MGM in Las Vegas, said: "As we looked toward our reopening, we identified an opportunity to be responsive to recurring guest demand for a fully non-smoking casino resort on The Strip. With our Vegas portfolio, we are able to offer an array of options for visitors."