The Macau authorities today announced some of the key aspects of a bill proposing a new regulatory system for gaming that will shape how the industry looks for years ahead.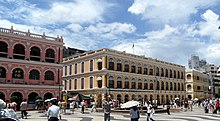 Macau's Executive Council, an advisory body to the city's Chief Executive, stated that there would be a maximum of six concessions under the government-backed bill. It would end the existing sub-concession model.
It added that the concession period would be a maximum of 10 years, but it could be extended by a further three years under exceptional circumstances. The existing six concessions - due to expire in June - covered a 20-year lifespan.