Las Vegas Sands' latest earnings report provided a welcome respite from negative news, beating expectations and with a positive outlook, but perhaps the real surprise was the outperformance coming from Singapore.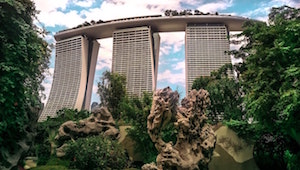 The group's Marina Bay Sands property actually made money on an adjusted EBITDA level in the quarter - $70m in fact. That's despite having no foreign visitation and limited operations due to social distancing measures.
You may recall, ratings agencies in recent weeks have sounded a note of caution about the Singapore market as it pertains to rival Genting Singapore, stating that the lack of foreign arrivals and slow recovery would drag on the Genting Group's earnings. Well, that's certainly not been the case for LVS.
"We're very encouraged with what's happening in MBS," said Rob Goldstein, group president and operating officer on a call with analysts. "We made some money this quarter, as you see. I think that will continue to grow."
Reasons for further optimism at the IR, which has consistently had among the best margins in the business, include an expansion in the number of slot machines from January next year from 1,500 to 2,000.
Source: Asia Gaming Brief