The Clearwater River Casino and Lodge in Lewiston, Idaho, is the latest venue to install the JCM global Digital Signage Solution.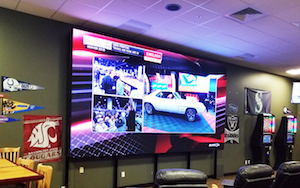 Two 1.9mm direct view DSS LED displays, each 15ft by eight ft, are now in the Stadium Sports Bar.
The bar now features all types of sporting events and broadcasts esports tournaments.
Said Dan Kane, Clearwater River CEO: "Our guests love the Stadium Sports Bar and these incredible new direct view LED displays. The video walls have helped up to create a space where our guess can come and enjoy any and every type of sporting event with action that is larger than life."
Clearwater is just one of a number of locations across the US that is installing the digital displays. Clearwater is owned and operated by the Nez Perce Tribal Enterprise.
Dave Kubajak, senior vice president sales, marketing and operations at JCM, said: "We have been a supporter ofg tribal gaming since its inception. Customers have trusted us for decades to protect their operations with our secure transaction technologies. Now we can help them further enhance their bottom line with visual destinations."