A new arrival, Paolo Mattavelli, is being welcomed at Innovative Technology, further expanding the back-up service offered by the money validation company.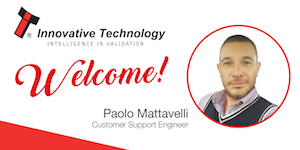 Mattavelli joins the Italian operations team as customer support engineer, based at ITL's Milan office.
The branch in Italy offers both remote and field-based technical support across ITL's network of gaming, amusement, retail and vending customers.
Stefano Mandelli, business development manager for Innovative Technology, said: "Paolo has over 15 years' experience in the industry and having previously worked for some of our major customers he already has an in-depth knowledge of ITL products. Paolo is well-known in the industry and has a wealth of both technical and commercial experience of payment systems, making him ideal for the position."
Commenting on his new position, Mattavelli said: "My role is to offer technical support for ITL's Italian customer base and responsibilities include providing hands-on experience of software integration, installations, testing, troubleshooting, maintenance and product training. I will be traveling across Italy and Southern Europe meeting ITL customers across the region."