Intralot was awarded distinctions in the categories Learning and Development and Covid-19 Response Actions at the HR Awards 2020 ceremony on October 14 as recognition of its human resources initiatives and practices.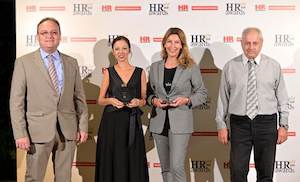 Intralot's human resources team won the Gold Award in the category Learning and Development: Best Team Building Programme for the design and implementation of the Hackathon initiative, aiming to bring its people from around the world closer.
During the internal Hackathon competition, employees participated in brainstorming discussions, worked together to generate innovative ideas, had fun and shared an amazing experience, strengthening Intralot's culture of collaboration.
The Intralot HR department also received a Silver Award in the new category Covid-19 Response Actions: Most Valuable HR Team for its immediate response and plan since the beginning of the pandemic.
The main goal was the protection of its employees' health and the prompt implementation of all measures to address the pandemic, ensuring business continuity at a group level.
The picture shows, from lef to right, Eddy Gerekos, group HR director, Areti Mairopoulou, senior learning and development manager, Christina Geronicola, internal communications senior manager, and John Hlabanis, facilities supervisor.