Electronic table game manufacturer Interblock has announced the placement of a 64-seat Diamond Stadium environment at Kangwon Land Casino in South Korea.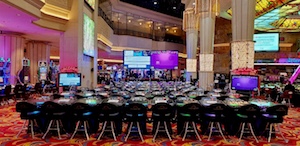 It is the country's largest casino and the only Korean casino that currently grants admission to both Koreans and foreign visitors. This is the company's first product placement in Kangwon Land Casino following a successful bid to place an ETG stadium on its casino floor.
"We are thrilled to have been given the opportunity to showcase our premium dealer-assisted stadium products within Korea's flagship casino," commented Interblock's president for Asia Pacific, Michael Hu.
"In collaboration with our trusted partners at Korea Gaming Solutions, the stadium implementation project, installed before the end of 2020, was executed on time and to Kangwon Land's specifications. We wish Kangwon Land Casino and KGS great success in 2021 and beyond."
"Interblock's ETG is a system that has accumulated abundant experience and knowhow and is expected to provide better convenience and interesting games to customers by providing an excellent, stable, serverless offering and various attractive functionalities," stated Kangwon Land Casino's project manager.
The Diamond Stadium consists of 64 Diamond play stations with multi-game, multi-denomination and multi-lingual support, including Korean and Japanese, two live dealer assist tables, including baccarat and multi-hand blackjack, which allows guests to play up to three hands at a time, large LED display panels displaying trends, game history and live gameplay and in-depth game performance reporting tools.