Making cash payments safer and more hygienic, CashGenic from Innovative Technology is this week the subject of a series of partnerships with distributors in the UK.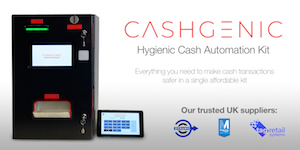 The company, a specialist in cash handling and validation products, has launched CashGenic during the pandemic as a solution for customers who wish to pay by cash safely at a time when coins and banknotes are being, says the company, "unjustly portrayed as a high risk in terms of transmission."
Group sales director Tony Morrison said: "While the World Health Organisation and other institutions found no evidence to confirm that Covid-19 can be transmitted through coins or banknotes, many retailers were strongly advising other forms of payment at the start of the crisis.
"We responded quickly as it is important to us to ensure that we give our customers payment choice. CashGenic technology makes cash transactions safer and more hygienic, eliminating the need for staff to handle cash while enabling social distancing during cash transactions.
"In addition to offering more hygienic cash payments, staff no longer need to count cash as the machine automatically does this, therefore saving time and generating greater efficiencies for the business. Another key benefit of CashGenic is that it also helps organsations eliminate shrinkage and accounting errors as cash handling is automated."
The company has partnered with CC Dynamic, Maggi Electronic and Tag Retail to supply the Hygienic Cash Automation Kit to the UK. The technology has been developed by IT and the complete system solution can now be supplied by CC Dynamic branded as Exchekka and CashConnect from Tag Retail.