The current political unrest in Hong Kong will have a direct impact on Macau tourism – and on Macau's gaming venues – say analysts.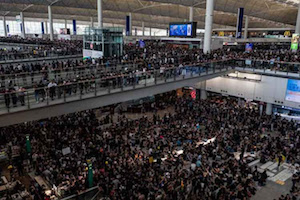 Hong Kong Airport was closed this week in the demonstrations and the unrest, together with uncertainty surrounding the VIP sector has been suggested in Australian circles to have a impact on junkets. Gross gaming revenues are predicted to fall by up to six per cent as a result.
Previously, Macau's gaming revenues had been estimated would rise two per cent this year, but with hundreds of flights in and out of Hong Kong – the nearest international airport to Macau – being cancelled this week with protesters flooding into the arrivals hall, will have an adverse impact.
Additionally, the scheduled ferry services between Hong Kong and Macau have been affected by the protests. Analysts said: "We are beginning to see a negative impact from the protests in Hong Kong which is causing some transport disruption and beginning to create a headwind to China visitation into Hong Kong and onward visitation in Macau."
The negativity surrounding Suncity continued to place pressure on junket VIP tours as agents withdraw funds or delay visits to Macau.
Pictured: Hong Kong Airport arrivals terminal hit by protests