SkyCity Adelaide in Australia has launched The District Poker using the latest Poker Room Manager and jackpot software from Gaming Entertainment Systems.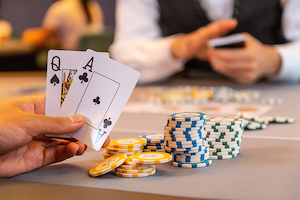 During these challenging times, SkyCity Adelaide has been approved to offer card room poker with eight players per table. At SkyCity Adelaide's request, GES implemented a new Players Seating History report enabling the casino to demonstrate a rigorous Covid safety plan.
The District Poker room also offers a royal flush jackpot and a daily $250 high hand bonus, demonstrating the full capability of the GES Poker Room Manager and jackpot system. Ash Azad, SkyCity Adelaide's general manager of table games, commented: "GES responded quickly and efficiently to our request for enhanced Covid reporting and were able to implement the upgrades within days. We applaud the outstanding customer service from the GES team." Simon Witty, managing director of GES, said: "We are delighted to see SkyCity Adelaide launch their new poker offering, The District Poker, and we are pleased that they are utilising all of the latest features of the GES poker system."