Major German Bundesliga team Fortuna Düsseldorf has a new gaming partner in the Gauselmann Group.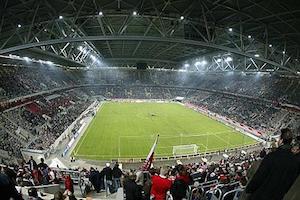 The German AWP manufacturing company is already the sponsor of the team's 54,000-capacity stadium, the Merkur Spiel-Arena, but last week a long-term agreement between the club and the sponsor was signed. Initially, the partnership is at theming level with the Gauselmann company brand name Merkur prominent.
Christian Koke, marketing director at Fortuna Düsseldorf, said: "We are the main tenant of the Merkur Spiel-Arena, but now we have a comprehensive partnership with Merkur. We can exclusively welcome a company based nearby in North Rhine-Westphalia as a partner because the gambling market including sports betting, is economically exciting in football."
Gauselmann's marketing director, Manfred Stoffers, said: "Fortuna is an important beacon of Düsseldorf sport. This completes the partnership. If it says Merkur on it, then Merkur has to be inside the stadium. We hope that our sponsorship will make a contribution to ensuring that Fortuna is back on the road to success as quickly as possible."