Churchill Downs has signed an agreement to sell 115.7 acres of land near Calder Casino in the US state of Florida for $291m.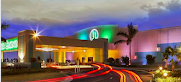 The company has agreed to sell the land to Link Logistics, one of the premier owners of logistics real estate assets, established in 2019 by Blackstone.
The closing of the sale of the property is subject to the satisfaction of various closing conditions. The company anticipates closing the sale of the property in the first half of 2022. Churchill is planning to use certain proceeds of the sale to purchase or invest in replacement property.
Following the closing of this transaction, Churchill will retain ownership of approximately 54 acres of the current 170-acre parcel of land on which the company's wholly-owned Calder Casino sits.