It was a triumphant exercise for Apex Gaming in Bucharest, Romania, at the Entertainment Arena Expo, held September 3-5, reports the company.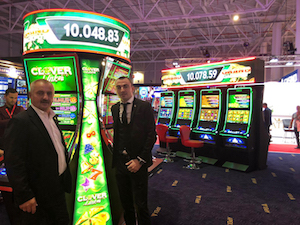 The highlight was the very positive reaction to Apex's Clover Link jackpot game. The main attribute that appealed to the visitors was its flexibility.
Clover Link comes in different formats, the Big Island with eight slots, the Round Island with four and the Wall Edition that can have up to five. Additionally, operators can choose from a variety of hardware designs, the Pinnacle Premium Curved slot with a single 43ins monitor, the Pinnacle Premium SL with three monitors each of 27 inches, and the new Pinnacle Black Series with two monitors for each cabinet, both with 24ins screens. Additionally there is the Pinnacle SL with two monitors of 27ins each.
Said Kubilay Ozer, global sales director at Apex: "It has been a big year for Clover Link. Our industry may be global but it is small and personal and recommendations play a key role. Our client base is growing and it creates opportunities for operators to introduce Clover Link to their colleagues."
Christian Weissengruber, sales manager for Romania with Georgi Lungolov at the Apex stand in Bucharest.