From this month, officials in Bratislava will implement a full ban on gambling within the city.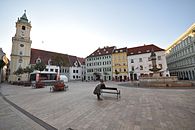 The ban will affect around 300 businesses including casinos and arcades, which will gradually close down over the next four years as their licences gradually expire.
City officials revealed that the capital of Slovakia is estimated to lose around €3m in annual tax revenue as a result of the latest gambling-related decision. The Slovak Gambling Operators Association may appeal the decision.
According to gambling analysts, the two most likely outcomes are that companies will either relocate out of the capital or continue to operate in a grey zone.