The Court of Justice of the European Union has reiterated that Austrian gambling legislation is inconsistent with European law.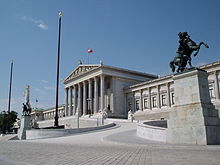 A case on Wednesday largely followed a similar one last November, confirming case law that state a national gambling legislation is compliant with EU law only if it is consistent.
The ruling met with the approval of the European Gaming and Betting Association. Secretary general Maarten Haijer said: "We welcome the court's decision, which confirms that the Austrian gambling legislation is in breach of EU law. The ruling strengthens the requirement that member states' gambling laws should be consistent."
He added: "In this context, we want to remind that the European Commission acted in its proper role as guardian of the treaties by launching formal infringement proceedings against six member states last November.
"While we encourage the commission to take the appropriate next steps in these proceedings and open new proceedings where necessary, we especially urge the member states to pursue their stated public interest objectives in a consistent and systematic manner free of hypocrisy."
The Austrian gambling system has recently been subject to several court cases, both at national and EU levels, in which the CJEU has detected major inconsistencies in the Austrian gambling legislation and hence declared that major parts of the Austrian system are non-compliant with EU law.