Apex gaming took a prominent position on a bigger stand compared with last year's at the Irish Gaming Show that took place between March 5-6 in Dublin.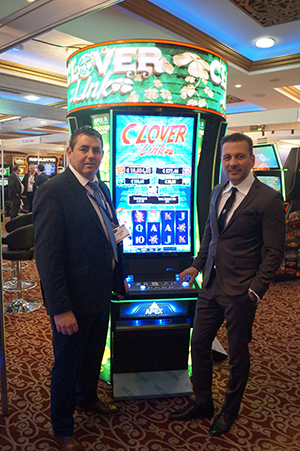 The Clover Link jackpot islands continue to enjoy popularity in Ireland due to a blend of player interest and Apex's unique design. Customers have a wide array of options to choose from – the Big Island, the Round Edition, the Wall Edition and now the Slim Edition.
All versions are available in a range of different slots, including the 43ins Pinnacle Premium Curved, the Pinnacle Premium SL with three 27ins monitors or the Pinnacle Black Series with two 24ins monitors.
Mardam is headed up by Damien McCoy and is the long-standing partner for Apex gaming in Ireland. Clover Link has already become a firm favourite amongst Irish operators and this year was no different.
Kubilay Özer, global sales director at Apex gaming, was again very pleased from the feedback given during the two days at the show. "We have again made a real difference in what we do – Clover Link is in great demand here. Now there is even more reason to choose Clover Link – as this unique jackpot solution is now available as a Multi Game. There are a total of four great games to choose from – naturally with Clover Link being the real hit."
The Apex Player Station electronic roulette was on display. This automated roulette has already won Irish hearts. The fact that this solution is expandable and so can be linked to up to four roulette wheels – both live and electronic – gives operators more flexibility. The Apex EVO games can also be played on it – meaning that a player who wishes to play a slot game in between does not have to leave his or her seat – this provides for optimal player comfort. Apex gaming machines with the latest Evo platform can be connected to the APS solution so that players can enjoy the roulette games on the slot machines.
Pictured: Damien McCoy and Kubi Özer at the Irish Gaming Show