Las Vegas Sands has revealed that chairman Sheldon Adelson has taken medical leave, though analysts say his departure is not a concern in terms of changes in strategy at the casino operator.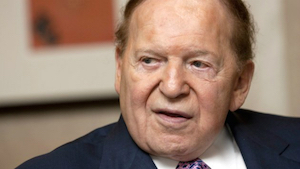 Adelson, aged 87, left with immediate effect to resume treatment for non-Hodgkin's lymphoma, a condition for which he underwent attention in 2019.
In a statement on Thursday, the company said its board of directors has named Robert Goldstein, currently Las Vegas Sands' president and chief operating officer, as acting chairman and acting chief executive officer of the company and its Sands China unit while Adelson is on medical leave.
"We believe, and we believe investors concur, Mr Goldstein is more than simply well equipped to perform the active duties in the absence of Mr Adelson during his treatment," Deutsche Bank analysts wrote in a note shortly after the company's announcement.
"Further, as it pertains to the international activities of LVS, we believe relevant governments are aware that the commitments made by Mr Adelson, on behalf of the company, are generational and as such, we do not believe there will be concerns around a change in strategy in Mr Adelson's absence."
Source: Asia Gaming Brief