Kate Systems, a provider of management and cashless systems for casinos and gaming arcades, has deployed Access-IS Atoms at gaming venues across Belgium.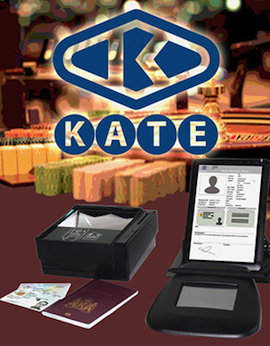 By using Atom, Kate has been able to automate and speed up the customer on-boarding process by collecting numerous pieces of data from customer ID and then automatically populating the mandatory fields in the software. Additionally, users can select optional facial recognition to ensure that the document presented belongs to the person presenting it by comparing the passport image with the person's face.
Atom's design enables the capture of multiple high-resolution, uncompressed images: visible, infrared and ultraviolet. In comparison to existing scanners, the transaction time is significantly reduced, delivering higher productivity, cost savings and reducing customer registration time. Its document guides have been designed to ensure that every kind of document can slide onto the glass, with bent corners eased down. The product also delivers fast MRZ decoding while simultaneously reading RFID data from eDocuments.
Within the next few months, Kate will start installing Atom readers in gaming arcades in Jamaica, where they account for 80per cent of the market. Significant demand is also expected from hotels and resorts where opportunities for streamlining front desk operations exist.
Aschwin Molendijk, CEO at KATE, said: "We chose the Access-IS Atom for a number of reasons, including its lightning speed and reliability but also because of the ease of the software integration with our own systems."