2007 was a year of growth for the us casino gaming industry, but it ended in the shadow of the global recession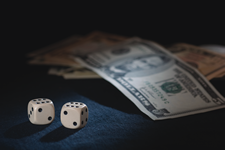 The American Gaming Association's 10th annual report State of the States: The AGA Survey of Casino Entertainment showed that 2007 was a year of steady growth for the US commercial casino industry, but by the close of the year the threat of the global recession was already beginning to cast an ominous shadow over the sector.
A quarter of the US adult population visited casinos in 2007, making more trips than in any previous year, the AGA's report stated. The average number of trips per gambler also increased, rising from 6.6 trips in 2006 to 6.9 trips the following year.
During this period, consumers spent more on commercial casinos than they did on buying movie tickets, candy or computer and video game software.
"Casino gambling and visiting a casino resort have become part of the mainstream American entertainment experience," Holly Thomsen, director of communications at the AGA, told InterGaming.
"There are more states that have casinos - whether they are commercial casinos, Native American casinos or casinos alongside racetracks - now than there were 25 years ago, so access to casino gambling has increased.
"With increased and easier access to casinos, more people have decided to give it a try."
Over two-thirds of people surveyed as part of a national poll conducted by Luntz Maslansky Strategic Research said they agreed that casinos bring economic benefits to other industries and businesses, while 84 per cent said it is acceptable for them or others to gamble in casinos.
According to the report, slot machines continue to be the most popular casino game, with 56 per cent of those surveyed in a 2008 public opinion poll claiming it to be their favourite activity.
Blackjack was preferred by 24 per cent, while poker, craps and roulette were the chosen games of eight per cent, six per cent and four per cent, respectively.
But the opportunity to gamble isn't the sole reason consumers continue to choose to visit the country's gaming venues. While visiting casinos, three-quarters said they ate at a fine dining restaurant, nearly half (48 per cent) saw a show, concert or other live entertainment option and 42 per cent went shopping, or visited a bar or nightclub.
Such non-gaming amenities are now a key component of the casino resort experience, adding to consumers' excitement and entertainment choices, Thomsen remarked.
"Our survey results show more people visit casinos for the shows, dining and overall experience of the place than for the gambling alone," she added.
Gross gaming revenues totalled US$34.13bn in 2007, representing a 5.3 per cent increase on the figure recorded during the previous year.
The strong performance of the industry was attributed to the expansion of gaming into new states, such as Pennsylvania, and the opening of new properties in existing jurisdictions, including Louisiana and Iowa.
Continued reinvestment in existing gaming properties and redevelopment work in states affected by Hurricane Katrina were also considered important factors resulting in the rise in revenues.
The report also showed that over $53bn in new projects have either been opened or are scheduled to open over the next few years - demonstrating the commercial casino industry's commitment to the areas in which it operates.
Notable projects include MGM Mirage's CityCenter in Las Vegas, Nevada, and CityCenter East in Atlantic City, New Jersey, while the association predicts that Mississippi, Michigan and Pennsylvania will be among the states set to benefit from future capital investment by casino operators.
##image2##
Described by the study as a significant contributor to the national economy, the country's 487 commercial casinos employed 360,818 people who earned $13.8bn in salaries in 2007. The industry also paid out 11.3 per cent more in gaming taxes, at a total of $5.79bn.
"Casinos are no different than other businesses in that they encourage capital investment, create jobs to construct and operate facilities, pay taxes and stimulate local economies through their expenditures on payrolls, goods and services and so forth," said Thomsen.
"Casinos provide good jobs and tax revenues for state and local governments that simply didn't exist before."
These tax revenues, she explained, provide for education funding, infrastructure and community improvements and other projects, while casinos also create new opportunities for local and regional businesses that serve as suppliers.
In Iowa, for example, the state's casinos generated $1bn for the state economy in 2007, spending $300m on goods and services, the majority of which were purchased from local businesses.
According to Thomsen, commercial casino companies and their employees also donate hundreds of thousands of hours of volunteer service to their communities every year.
"All in all, commercial casinos are valuable community partners that help bolster the economy and communities where they operate," she said.
However, as the report noted, cracks were already beginning to appear at the end of 2007, going some way to disprove the 'recession-proof' claims made by some within the industry.
"The recession is impacting the casino gaming industry the same way it is impacting other industries that are dependent on consumer spending," Thomsen commented. "Consumers are spending less, taking fewer vacations and tightening their entertainment budgets across the country.
This is a view shared by Joe Corbo, vice president and general counsel at the Casino Association of New Jersey, who has witnessed first-hand how the economic environment in which casinos are operating is having a dampening effect on consumer spending across all aspects of business in his own state.
"Gaming and all of the other entertainment options we offer, such as fine dining, spa, hospitality, retail, nightlife and concerts, entail discretionary spending of our customers' disposable income, which has diminished across most retail sectors in our country," he explained.
"Consequently, a certain segment of our customers are not visiting as frequently and, when they do, they are generally consuming less.
"The economic climate has both a real impact in terms of fundamentals and the perceived impact of those fundamentals that translates into consumer confidence. We are hopeful both will improve in 2009."
New Jersey's casinos have also had to contend with increased competition from neighbouring states and a partial ban on smoking, both of which were factors cited by the AGA as having contributed to a 5.7 per cent drop in gross gaming revenue in 2007.
Yet despite this, Atlantic City remained the US' second largest casino market behind the Las Vegas Strip.
##image3##
So how is the casino industry dealing with the economic downturn? According to Corbo, each individual casino is unique and aims to adjust its business model to accommodate changes in the economic landscape, leveraging their strengths and adapting to the current climate with appropriate marketing offers.
However, all casinos have the common goal of attempting to increase revenues in a cost effective way.
"First, we have to recognise that we are in a new and evolving economic situation and continue to adapt to it, as we have done during the past challenging times, including last year," he said.
"We also continue to recognise Atlantic City's promising future and remember before the credit markets seized that there were potentially five new state of the art destination resorts that were being planned with a total of $10bn to $15bn to be invested.
"As a state we need to continue to forge ahead with infrastructure improvements that will be able to accommodate the increased number of customers and employees that will be generated by this type of growth. In short, we need to stabilise the market in the short term, while we continue to plan for future growth."
This, though, may be easier said than done. The economic downturn is now having a significant impact upon a number of commercial casino operators, some of which have been forced to limit expansion and put their construction plans on hold.
At a time when new investment and growth is required to stimulate consumer spending once more, operators are finding raising funds to pay for such projects to be far more difficult than in the past.
"Right now, the primary barrier to expansion is the lack of available capital for casinos to finance new projects," said Thomsen. "If the banks aren't lending out money, casinos can't build."
Present conditions, it seems, are testing the resilience of the US commercial casino industry. It has in the past proved more than capable of overcoming such adversity, but the likelihood of it emerging from the current global economic downturn unscathed is decidedly slim.
Should these negative trends within industry and the wider economy continue throughout 2009, the AGA's next State of the States report could prove to be very different reading indeed.