The footslogging troops of the games suppliers, leapfrogging from Dallas and the Amusement Expo, to Riccione and the new Italian FEE show, to DEAL in Dubai, must be wearily reflecting on a first quarter of unrelenting pressure in 2017. But also with some satisfaction, for all three were upbeat.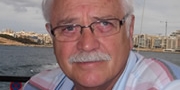 The show reports will record it all in InterGame's pages, but there are always parts the reports don't reach. The travelling industry works hard but also plays hard. At DEAL in Dubai the ageing stalwarts of the international stage were out in force and celebrated in style.
I have to include myself among their ranks, although I didn't go to Dallas or Riccione – I don't have the staying power for travelling everywhere any more. I am not a Gene Brogowsky or a Tom Kane.
The problem with DEAL is that we have a great conflict of loyalties. Both of the big distributors hold parties on the same night – the middle evening of the three-day show. The first evening is the organiser's exhibitor's party, so that's sacrosanct and by the third evening many of the visitors are on their way home.
So Prakash Vivekanand and his ASI hold a big dinner party at one Crowne Plaza, this year co-hosted by Sega, and rival Nabil Kassim of Warehouse of Games holds another dinner party at another Crowne Plaza on the other side of town.
And both take it seriously amiss if those of us with loyalties to both, are not there.
That means going to one, having a few drinks, leaving before the food and much of the entertainment and taxiing over to the other event for the latter stages. In my case that means leaving the ASI do at 10pm, inevitably fairly well-oiled without eating, and doing it all again plus food at the WoG party.
Net result: eating at 11pm and spending the night at my hotel heavily into indigestion remedy Gaviscon. Too old for all this. I complain to both of them; they smile indulgently and repeat: "You HAVE to be there…" What do you do?
For the record, they are each essentially different from the other. The ASI event is on an elegant deck open to the balmy night air overlooking the city and it is all very classy. I could stay there happily all night - but Nabil's WoG party is at a big Lebanese restaurant with a belly-dancer and appropriate music. In short, it's fun. And by the time we get to the WoG event we are "happy" after imbibing Prakash's excellent hospitality.
It was a good job that it was only to Kjeld Erichsen that I threatened I would get my shirt off and do a belly dance if Nabil did too… just the thought is enough to put everyone off their kebabs.
Fortunately Kjeld is a Dane and has a protective instinct towards those foolishly challenging. If it had been uttered to a black-hearted sod like Frank Ballouz, it would certainly have been forced through to its bitter and humiliating conclusions.
Moral? Stay on the soft drinks at the ASI do and go home at midnight to my date with the Gaviscon.