A week after visiting Malta, I was briefly reunited with one of the island's i-gaming population. We were in a park, in Krakow, Poland, and she hugged a tree. "Oh my!" she said. "Look – trees!"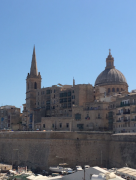 After a year living and working on the sun-bleached southern Mediterranean rock that is Malta, she was happy to once again be among green leaves.
For Malta is an island of extremes. There are none of the verdant rolling hills of Italy to the north and few bushy municipal parks to walk dogs in or take children to. Lush, it is not.
It is hot, with the weather apps consistently warning of "very high" or "extreme" UV levels throughout spring and summer. The appalling traffic is legendary and the road signs and markings – or lack of – do nothing to ease the flow, the opposite in fact.
There are building sites around every corner, tower cranes marking each like pins in a map. There are few, if any, workmen to be seen on these sites. Still, the endlessly looping soundtrack of metal being mechanically driven into stone with metronomic regularity must be coming from somewhere.
Rents are sky-high but food and drink is cheap. Holidaymakers sup beer on loungers and thumb through sunscreen-soiled paperbacks while businessmen and women sip chilled sauvignon blanc at the bar, rifling through work emails on patchy wi-fi. Contrasts and extremes.
These extend to the online gaming community in Malta, which continues to flourish. Despite the rents, the scarcity of large office space, the heat, the lack of greenery – i-gaming in Malta thrives. Organisms that survive in the most challenging environments on earth are among nature's most fascinating creations.
In Malta, where there are few trees, i-gaming somehow makes its own oxygen. The results are staggering.
Getting around the island can take time but in a recent visit, the iNTERGAMINGi team managed to meet with people from around 15 online gaming companies. Without exception, we encountered energy and optimism. A can-do attitude. Everyone there needs more space, all are recruiting (Gibraltar's loss is proving to be Malta's gain, easing the stress levels in the HR departments just a little).
Squeezed into the bustling streets of Sliema, St Julian's, Gzira, Birkirkara and the resolutely unpronounceable Ta' Xbiex, are pockets of Scandinavian cool, French savoire faire and British industry.
Like many in Malta's business community, the workforce in the i-gaming sector is generally young and hungry. They work fast and smart. We gathered for one meeting in the foyer of a building packed with online gaming companies, on time and having bagged a precious parking space within hiking distance.
Our scheduled appointment time came and went with the person we were to meet nowhere to be seen and the company name disconcertingly absent from the hallway's roll call of occupants. We called him, we emailed. Nothing. We sent a Skype message, which elicited a near-instant reply. "I'm outside," he said. And he was. Just not outside the building we were in.
So we were late, by maybe 10 or 15 minutes. It didn't matter. The meeting went ahead in a very casual and efficient manner. And that's Malta in a nutshell.
It can be crowded and hot, and you can't park and it's hard not to be late for everything – but it doesn't get in the way.
The i-gaming community there takes it all in its stride. More than that, it prospers. In flip-flops.
The lessons? There are many, chief among them are the levels of drive and determination on show – an entrepreneurial never-say-die attitude – that Malta, and the i-gaming sector, has in spades. It is not easy - and Malta is no friend to the lazy or entitled - but the potential is as crystal clear as the ever-present azure waters of the southern Med.
Even in Malta, one of the most densely populated places on earth, where so often one cannot see the wood for the metaphorical trees, the i-gaming ecosystem continues to expand.
There are many challenges, for sure, and the problems are not going away, but any visitor to the island is left in no doubt that i-gaming's youthful, daring vanguard will find a way.