Several weeks on from returning from Singapore, my first experience of jet lag has subsided and I am now once again acclimatised to the seemingly permanent grey skies of Manchester.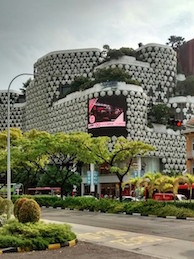 Apart from experiencing the energy-sapping effects of travelling through several time zones, travelling to Asia for the first time was an eye-opener in several other ways.
Singapore is a country that takes particular pride in its greenery. The city is considerably far removed from the traditional notion of the concrete jungle; it is hard to walk a few feet without seeing some kind of flora, be it the trees that line the roads or the public gardens dotted around the city centre. This is all thanks to a successful government initiative that has, successfully, worked towards creating an improved living environment for the community.
Because of this, Singapore is incredibly clean. This is down to the population's pride in its home, but you can't escape the feeling that it's also probably attributable to the country's infamous zero-tolerance laws. In a world where littering fines can reach $1000, cleanliness comes naturally.
The heat, specifically the humidity, is unrelenting – situated close to the equator, Singapore is practically season-less. The balmy temperature persists year-round and, barring the occasional 10-minute downpour, this rarely dips. Seeking respite in a chilled beer isn't cheap either. Luckily, the food is, and with Singapore's melting pot of cultures resulting in a wide variety of culinary choices to peruse, following your nose is rarely a bad idea.
It is perhaps this cultural mix that made the country the ideal locale for this year's Asian Attractions Expo. Although not exactly famous for its own amusements industry, it acted as a suitable place for the world's manufacturers to convene, in particular giving westerners access to Chinese contacts they would otherwise struggle to meet.
In the world of amusements, AAE painted a contrasting image of the market. On the one hand, the show itself was a record-breaker; the number of exhibitors had risen to the point that extra show floor space had to be opened. On the other, many of those exhibitors expressed disappointment at the lack of footfall.
The show was not without its sparks of innovation, with eye-catching games, rides and virtual reality coasters still drawing plenty of attention, but the decision to split visitors between two floors was perhaps a naïve one.
Singapore as a country seems to be moving quickly towards finding its feet as a must-visit destination in Asia. Similarly, AAE has shown potential in the arena of amusements exhibitions. It is surely only a matter of time before both realise their potential.