In the build-up to last week's eye-catching FA Cup fourth round clash between non-league Sutton United and Premier League giants Arsenal, the British tabloids - as part of the customary run-down of potential cup giant-killers - had noted that Sutton's reserve goalkeeper was, for a footballer, a bit on the large side.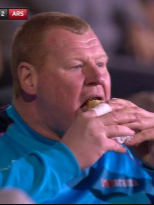 Wayne Shaw, affectionately labelled the "roly-poly goalie" by Sutton fans, is reportedly a fun-loving character with a light-hearted take on life. One bookie had even offered a market – with odds of 8/1 – on whether Shaw would eat a pie at some point during the match.
So it came as no surprise when, with a few minutes of the game to go at Sutton's 5,000-capacity stadium and with no possibility of Shaw playing any active part in the match, he rather conspicuously consumed a meat-and-potato pie in the dugout, in front of a TV audience of millions.
Many have rallied to support Shaw, labelling his "antics" (tabloids love antics) nothing more than a bit of fun, all playfully hashtagged with the mock-serious #piegate. Gary Lineker, himself an FA Cup winner with Spurs in the nineties, tweeted: "Football is losing its heart and its sense of humour," and, later: "So Wayne Shaw, who slept on a sofa 3 nights a week at Sutton to maintain and run the place loses his job over #piegate."
Lineker often offers a degree of balance on controversial football matters and took the perfectly reasonable line that Shaw had, with no ill-meaning, found himself at the centre of a pie storm that amounts to no more than a "bit of banter," as the goalkeeper himself labelled it.
Piers Morgan, an Arsenal fan, also took to Twitter to back Shaw, even posing for a photo with the player. Meanwhile, Sun Bets, the operator offering the odds on Shaw's potential pie-munching, said it had paid out a "five-figure sum" in winnings as a consequence of the keeper's snack.
But not everyone was amused. FA rules forbid those involved in professional football from betting on the sport and the same restrictions also prohibit professionals from engaging in activities that encourage others to bet.
To say that this is something of a grey area is a massive understatement. Players turning out for 10 Premier League teams, including Stoke, West Bromwich Albion and West Ham, each carry a gambling brand on their shirts every time they play – does this amount to "encouragement"?
When players like Zlatan Ibrahimovic and Harry Kane are banging in the goals, week in, week out, does it matter that they are trying to achieve something that will effectively help someone to win a goalscorer bet? It doesn't, pretty obviously – they are just doing their jobs.
A bigger question than whether Shaw should be hung, drawn and quartered by the FA, or if Lineker and Morgan should know better than to play down possible betting scandals, relates to the nature of the bet on offer.
Sergio Agüero bagging two goals in City's incredible midweek Champions League win over Monaco is purely a footballing matter and any bet on the striker scoring (or not) relates directly to the outcome of the match. These are not random choices made by the Argentine – he tries to score each time he gets the ball in the opposition half. He's very good at it.
No, the difference is that Shaw eating a pie has nothing to do with football, really - certainly nothing to do with the outcome of a match. Instead, he was choosing to play up to the lazy tabloid stereotype of an evidently overweight footballer who can't stop himself from eating pies.
Ignoring the unsettling inference that it's okay to poke fun at the fat kid, Shaw was surely just having a bit of fun. He probably should've known better but, still. The FA will chew the matter over and spit out a ruling one way or another. In any case, a few weeks down the line it will be all but forgotten by the public at large.
What remains is a more serious question – and one for the Gambling Commission: should operators be permitted to offer these sorts of novelty bets at all? They certainly represent good PR but questions of ethics are hard to ignore.
Bets currently on offer at Paddy Power include who the next Pope will be and dates for the next UK general election. Ladbrokes, meanwhile, offers odds on the next actor to play James Bond (they favour Idris Elba at 5/2, for the record) and whether La La Land will win big at the Oscars.
This is patently not the same as offering bets on whether one man chooses to eat a pie on the telly. Unwittingly, perhaps, Shaw decided who won and who lost and it had nothing to do with football. It was not a matter of chance or skill, it was purely his choice.
The FA will deal with Shaw, one way or the other, but the Gambling Commission has a bigger call to make.