The sun is setting over Santa Ponsa, a glass of Spanish red of indeterminate origins in hand (moral: never go on holiday "all inclusive") and I still haven't actually seen a hard copy of August's InterGame.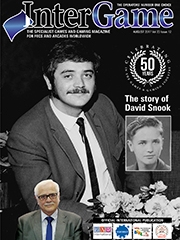 I left before it arrived in the office and although a copy was promptly posted out to me at my Majorcan hotel… well, you know how you always say in a postcard home: "This will probably get to you after I get back!"
What I do know is that my colleagues have pulled out a lot of stops. The emails I am getting suggest that August has a considerable tribute. I am sure it is undeserved.
Why should anyone be congratulated for being old? The only qualities for surviving 50 years in journalism in our industry is to have the metaphorical side-step of a Phil Bennett (for the uninitiated, he was a famous Welsh fly-half and for the even more uninitiated, that's at rugby).
But I remain mindful of the compliments made to me and am humbly thankful (yes, I can be humble). And my office were most diligent in their determination to keep page proofs of August under wraps so that I couldn't see what was being done on my once-a-week visits.
I knew only that my business partner had asked me to write "some reminiscences", which I accomplished with some difficulty, as writing about yourself is at best uncomfortable unless you are impossibly arrogant.
I therefore look forward to seeing it, perhaps with some trepidation and maybe a little squirming, but I fully expect the "tributes" to contain many slights on my bulk, age, nationality and general grouchiness to balance things.
The industry remains one that has been a wonderful friend, as it has built for me a career foundation of wonderful friends. I even like the English ones - as long as they are not Manchester United fans…