In the latest of a series of monthly insights from those at the world's leading integrated cashless solution for family entertainment centres, Embed's CEO Renee Welsh discusses innovations pioneered by the company in order to help drive the recovery of the industry.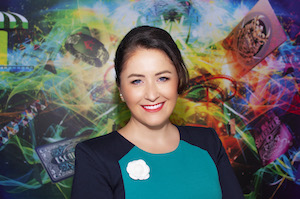 In this column, Welsh tells InterGame how the Embed Hygiene Defence product range has protected venues and customers not only from potential infections but also from the adverse effects of toxic, flammable and corrosive chemicals.
InterGame: First of all, could you provide a summary of the journey to date in terms of Embed Hygiene Defence products?
Welsh: "We're an innovation-led company, so it was a natural transition to work on hygiene defence technology. The Embed Hygiene Defence product line was launched in July 2020 and since then, we've gotten very positive feedback from our customers and the industry. "In fact, some have also shared with us that they never knew the current products they were using had toxic chemicals and how refreshing it is to use our products because their staff don't need to wear protective gear, like masks and gloves, any longer. "And the best part – no more dry hands. It's longer-lasting (four active hours when ethanol-based products only last three to five minutes or worse, 30 seconds if exposed to sunlight) and more cost-effective because the solution is concentrated so only a small amount is needed. More effective, longer-lasting and more cost-effective… it's a win-win all around!"
How have Embed's actions to date helped the industry in its recovery?
"As a result of the pandemic, we knew the industry elevated its cleaning protocols with stricter hygiene standards: cleaning more and more often and using harsh industrial cleaners with the good intention of keeping their venue safe. This accelerated cleaning pace resulted in an alarming exposure of dangerous chemicals to families. The list of health hazards is worrisome, not to mention the fact that these cleaners are ethanol-based, which is highly flammable and corrosive to expensive games and furniture. "Family entertainment, attractions and amusement industries are family-centric, so the cleaning products they use must be family-friendly and with non-toxic chemicals to protect team members and the youngest, most-vulnerable of guests, children. Embed Hygiene Defence provides uncompromised non-toxic protection to the industry's employees and guests."
Could you explain the potential problems relating to air conditioning units within indoor environments?
"Family entertainment centres offer a multitude of attractions for people of all ages, often entirely indoors. Many people congregate in one setting, in high-traffic and high-touch areas, create an unhygienic environment. While cleaning and disinfecting your FEC surfaces remains top-of-mind, it's important to remember the quality of the "air" (ambient, airborne bacteria and chemicals) that your staff and guests breathe in. "Reports have surfaced that air conditioners may be a factor in Covid-19 spread, especially within indoor spaces like family entertainment centres, offices and restaurants. Air conditioners recycle existing air, transmitting bacteria droplets through the air, potentially exposing other people and resulting in health risks to your employees and guests."
How does the Airborne Defence system work and how has it been tested?
"Embed's Airborne Defence system provides up to 30 days of 24-hour ongoing protection: killing 99.9 per cent of airborne germs and bacteria, odour, fungi spores and mould. Independently tested by Eurofins, a TGA licensed laboratory, UNSW and Chemsil Pty, Embed Hygiene Defence products are put through vigorous tests, including randomised, double-blind, comparative studies and results have been astounding (see below)."
Indoor environment 1: Reduction of airborne contaminants results in reduction of chest infections
The ingredients evaporate and incorporate with the airstream the same way as dust and microbes do. The results clearly show that fungal components, such as mould and bacteria, were reduced quickly. The formulation is an effective solution that addresses the significant contamination sources in air systems and respiratory infection triggers.
746 per cent mould reduction in 30 days; 449 per cent bacteria reduction in 30 days.
Indoor environment 2: Reduction in employee absenteeism. Reduction in respiratory infections
Embed Hygiene Defence products with proprietary key active San-Air™ ingredients were installed in the ducted air conditioning system's return air. The circulating air can be adequately treated for general bio-burden contamination. Results clearly show a decreased range of 80 per cent to 90 per cent in microbial contaminants in this house fitted with ducted air conditioning.
Within 72 hours, witnessed a 90 per cent reduction in microbial contaminants; within 48 hours, customer stopped having asthma attacks.
Indoor environment 3: Reduction in employee absenteeism. Increased employee satisfaction
The office faced a 22 per cent seasonal absenteeism with constant employee feedback about the foul-smelling air and making them sick. With San-Air ingredients, the circulating air in an air-conditioned environment can be adequately treated for general bio-burden contamination. Results clearly showed a decreased range of 50-90 per cent in the level of microbial contaminants.
Two per cent absenteeism rate as compared to the initial 22 per cent; 100 per cent increase in employee satisfaction with zero complaints; 90 per cent decrease in microbial contaminants.
Indoor environment 4: Reduced respiratory infections = happy employees
Recurring office illness resulted in the office staff facing respiratory infections and regularly taking sick leave. The initial diagnosis revealed a potential Aspergillus mould contamination, which is well known for causing respiratory infections in humans. Results clearly showed a decreased germ count and eliminated airborne mould coming from the air conditioning system.
Zero mould colonies in nine weeks; 230 per cent reduction in bacteria colonies in nine weeks
Finally, what importance do you believe your range of products will continue to have in a post-pandemic world?
"Research by Nielsen shows that in the post-pandemic world, consumers will be looking out for products that can protect their family against germs and bacteria in a safe, effective and natural way as hygiene protection becomes the top priority for consumers. Embed Hygiene Defence promises to deliver that – 100 per cent natural, longer-lasting and non-toxic."