In the latest of a series of monthly insights from those at the world's leading integrated cashless solution for family entertainment centres, Embed's CEO Renee Welsh discusses innovations pioneered by the company in order to help drive the recovery of the industry.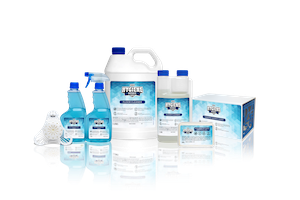 In this column, Welsh tells InterGame of how Embed has acted quickly and decisively to develop a set of products that are both desirable and necessary for a new breed of customer as the world eases out of lockdown.
InterGame: How far has customer knowledge of the importance of sanitation evolved during the pandemic?
Welsh: "Studies have shown that a new type of customer is emerging from this pandemic. After a long lockdown period, a surge of consumers is emerging and only taking families to businesses they perceive as safe. They will be more conscious of hygiene, price and social distancing than ever before. We've seen this around the world with our customers, as businesses reopen and close as a second wave hits.
"Consumers are incredibly savvy about knowing to look at the ingredients labels of their products, including cleaning products. They avoid exposing their families to toxic cleaning products, so they won't take their families to an operation they perceive as unsafe. It's unequivocal that the Covid-19 pandemic impacted the industry, with the ongoing closure of venues and the new operating models that operators will need to adopt (as it pertains to cleaning protocols and stricter cleaning schedules)."
Why did Embed decided to move into the area of hygiene protection and how did you select DZSA and San-Air as partners to work with?
"At Embed, we want to do our part to support our customers and industry. We thought long and hard on what would be the most powerful demonstration of our commitment to our customers and our industry's recovery and came up with a set of new initiatives every single month since this was declared a pandemic.
"This is simply another initiative that demonstrates this commitment. Plus, Embed is a tech innovator and will work with the most apt partners who share the same commitment to the evolution of our industry. So it made perfect sense for us to develop products that are stronger than harsh industrial cleaners without the toxicity. Embed Hygiene Defence protection is what our industry most needs now, helping our industry partners to address the new-normal way of life."
What was the particular importance of developing a solution that is ecologically friendly?
"Family entertainment, attractions and amusement industries are family-centric businesses, so the cleaning products they use need to be family-friendly with non-toxic chemicals to protect team members and the youngest most-vulnerable of guests, children. However, many industrial cleaners on the market today contain harmful chemicals that are damaging to human health.
"This isn't about the dry skin that results from using ethanol-based cleaners – we're talking about the alarming endocrine disrupting, cancer-causing and auto-immune disease-causing chemicals in these cleaners, plus they are terrible for the environment (because it goes into our water system).
"So, I challenged my team, 'how can Embed enable the industry to offer their guests 'SAFE. CLEAN. FUN'?' We wanted to develop products that are stronger than harsh industrial cleaners without the toxicity. Embed Hygiene Defence protection is what our industry most needs now, helping our industry partners to address the new-normal way of life."
Your products are long-lasting, so how beneficial is this element to operators already stretched for personnel and time?
"Embed Hygiene Defence products are active for four hours on surface areas while the Airborne Defence System unit offers 24/7 protection over 30 days. Compared to ethanol-based products which have a high-flash rate (evaporates in three to five minutes means there's no continued protection, rendering it ineffective), which in turn means that employees have to increase cleaning frequency of high contact points. By using Embed Hygiene Defence products, it increased operational efficiency and enables operators to focus on the overall customer experience instead."
Finally, how important is it for you and the industry at large to proliferate this reassuring message of SAFE. CLEAN. FUN?
"Our industry is about safe, clean, fun! And operators must make changes to the way we operate; we can't just reopen, doing what we've always done. The world has changed as follows:
• New elevated cleaning protocols that protect consumers and employees across airborne virus transmissions and surfaces. • Contactless family entertainment experiences will be the norm. • Social distancing is the new normal (and won't change any time soon): impacting game room layout and requiring capacity management operations. • New "high tech, low touch" family entertainment centre operations will emerge.
"The winners will emerge before reopening with a go-to-market reopening strategy that includes all the above. However, none of the above will matter if it isn't SAFE. CLEAN. Or, FUN."