The second in a series of monthly insights from those at the world's leading integrated business solution for family entertainment centres, Embed. Its CEO, Renee Welsh, talks about how the knowledge gained during her career in the rapidly-evolving travel and leisure sector makes her ideally suited to lead Embed's renewed charge to the fore of the family entertainment industry.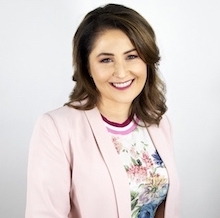 Welsh boasts an impressive pedigree from over 20 years in travel and tourism, having worked in senior leadership roles for global firms such as lastminute.com. Latterly, she was the founder of Booking Boss, a solution that addresses the needs of an ever-more digital industry.
Similar change is afoot for those who Embed targets, so how does it set the pace?
Lead, don't follow
"Of course, we work very closely with our clients and we draw inspiration from other industries; we monitor technological advancements and closely research consumer behaviour. Embed is designed to deliver a superior guest experience and our solution is a completely integrated business platform that enables business owners to achieve greater operational efficiency while reducing costs and increasing their profitability.
"Because consumers are savvy and discerning, they expect immediacy and ease when they take a break from life to live. We all use technology in all aspects of our lives to make things easier, from flight bookings to taxis and attractions tickets (skipping the queue because no one has time to stand in long lines while their free time is squandered). And if I may use a relevant example - party bookings - all these things are booked via a mobile phone in real-time. Consumers expect businesses, be it restaurants, cinemas or FECs and attractions to value their time; we're all time-poor, trying to juggle the many aspects of our lives and this is one of the focuses we have, to positively elevate the guest experience, so they get the convenience and immediacy they expect.
"The initial booking is just one component of the consumer journey. If we look at a party booking made via mobile using our booking module; on arrival they expect everything is ready and it has all been taken care of, so the arrival and check-in needs to be as seamless as possible, they don't want long waiting times, their F&B order needs to be ready using our Embed sales POS, their game cards need to be ready so they instantly enjoy everything the venue has to offer.
"For the host and certainly for the parent, (as I am!) you want the convenience of not taking out your wallet, or fiddling with cash, or filling-in forms - you've literally just arrived and everything is taken care of - so the host can concentrate on greeting guests and make sure everything is running smoothly. What's great is when you get there and all the cards are issued, with a simple tap on your smart-touch readers they're able to immerse themselves, they're having fun and playing the games they choose."
Smoothing the process
"So looking at the entire consumer journey, when the guest is immersed, they should never have to walk across the floor to check the balance of their card, that's just one example, it breaks the customer journey and suspends their fun. Similarly, you don't want people to have to break from playing awesome games to queue up, check their balance and reload their card. Our readers have the balance check feature built-in (a standard feature) to ensure their experience is not interrupted and they're able to continue to enjoy themselves.
If we look at the FEC industry, it is tech-enabled to ease and optimise the consumer journey, and the effect is that operators maximize their revenue and profit, because whenever the guest is engaged in gameplay or enjoying the food and drink, or upsizing their order from a bundle offered via our system, the operator profits.
Proactive, not reactive
"The flip side, I believe, is that that if an operator has outdated tech or no tech at all, it will ultimately drive them out of business. Guests don't want to stand in line waiting for paperwork or trying to find a reservation, dealing with outdated technology to process their payment, dealing with tickets or coins. Operators with outdated technology are falling behind by failing to collect incredibly important information about their guests, their spending patterns, visitation frequency and so much more, upon which they can make important decisions on how to move forward with their business.
"Operators have to find creative ways to drive repeat visitation to create customer loyalty and ongoing relationships with their guests and the Embed Toolkit solution enables that. You can no longer just rely on footfall, the demographics and population around a facility to drive people to your venue, you have to be a savvy marketer, understand who your consumers are, who you're targeting, what's important to them, incentivize their return visits, and that's the power of the technology that we provide. The power to transform any business."
Skills to pay the bills
"We are in an exceptionally unique position; when I came into the business 18 months ago, we had a team of people with many years of industry experience; in fact, one just celebrated a 30th anniversary, and we've many similar instances.
"We have a beautiful balance, I believe; deep industry knowledge and other high-tech functional experts that we're bringing in, like Sara Paz (chief marketing officer), LaDonna Whitaker (head of North America sales), Andy Welsh (chief technology officer), Michael Lopez (chief experience officer), and the melding of the industry insiders and high-tech is where the power is and our advantage is evolving. As well as that, as I mentioned before, we research trends to address two audiences: the guest with their journey from pre-visit through visit and post-visit, then return visits to the venue to add even more value.
We also focus on the operator and how the operational aspect is evolving and taking shape in new ways. New attractions require different types of booking mechanisms and features to facilitate the consumer experiencing it, so all of that is a large piece of the ecosystem I spoke about.
"Tech adoption by consumers is a foregone conclusion, they are leading the charge, and this market is sophisticated enough to know they need to be at the forefront of that, how consumers interact in their day-to-day lives and what they expect, to facilitate a seamless experience for them. Our tech, plus the creative application of it is really what we believe will transform this industry and the business of fun.
"We've got enormous credibility in our industry and we're looking at transforming it by bringing in some fresh blood into the team and perspectives while making sure we're focusing on the guest experience while optimizing and driving the operator's business."