The first in a series of monthly interviews with the chiefs at the world's leading integrated business solution for family entertainment centres, Embed. We speak with chief marketing officer, Sara Paz, who shares her thoughts on an industry that she's relatively new to.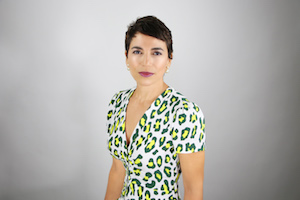 Despite her status as a recent arrival, she brings with her a wealth of knowledge and experience from her successful, award-winning career at well-known high-tech giants, top-10 brands, including recently, L Capital Asia, LVMH's (Moët Hennessy – Louis Vuitton) private equity arm, as their in-house, chief marketing consultant. She shared her thoughts on the industry and her vision for the Embed brand.
InterGame - What were your initial thoughts when you first saw our industry's current environment and landscape? Did this give you any immediate inspiration as to how Embed could grow?
Sara Paz - The first impression of the industry was the opportunity of a business category on the cusp of an exciting transformation, not unlike so many other industries, transformed by the combination of business and creative strategy innovation that's enabled by technology and driven by consumer tech adoption and expectations. Anyone looking at this industry assuming it is a sunset industry or an old economy category (the arcade) is missing the obvious.
It's crystal clear that there is consolidation and innovation within the family entertainment centre and attractions sector offering the following:
• Sophisticated F&B (reinvented culinary and mixology programmes, even wine-tasting areas and craft-beer corners that could be mistaken for any craft beer festival or winery)
• Next generation gaming (sure, there are dedicated super-high-fly VR games, goggles and all, but even the humble foosball table has been super-sized to accommodate over 50 people!)
• Events and theme parties that are insta-worthy and highly hash-taggable, targeting every single consumer and business demographic. We are not just talking family birthday parties, it's every kind of party, gathering and entertainment.
And here's the part that impressed me the most, these businesses are busy all day long (unlike most F&B and business that have low revenue periods). During the day it is board meetings and corporate team buildings, the lunch crowd, the after-school crowd, followed by happy hour, and an array of evening activities, from dinner to watching the big game, speed dating events, and/or attending a mega-gaming tournament, and the weekends include brunch and special events.
Before entering this industry, it was very clear these complex and sophisticated businesses require an integrated business platform to enable, empower and ease their businesses to grow their revenue while streamlining their operation and maximising their profit. And Embed, with its legacy of innovation in the industry, combined with the jolt of inspiration that is the visionary Renee Welsh, Embed's CEO, the window of opportunity was clear. It was also clear from the highly inclusive culture that is a mix of industry insiders (who've been in the industry for 20-years) and next generation high-tech IT (from start-ups to world class MNCs) that no one in any industry was having more fun reimagining the business of fun! And with a diverse leadership team that is 33% female, when half of start-ups have no women on their leadership teams, and only 17% of Fortune 500 CEOs are women, my vision was clear: I needed to be part of this team and join the mission to transform the business of fun.
IG - What initiatives and focuses are you able to bring from your previous positions that will help Embed impact the amusement and attraction industry?
Paz - Everything I've learned at top-10 brands, best practices from hyper-competitive fast-paced high-tech MNCs, world-class design innovation from the LVMH brands, and the scrappy-underdog-hustle from various start-ups informed how the marketing function was architected at Embed. From using technology to market technology, designing the martech stack and creative design innovation, it is a revolution in change. Our industry, our product and our customers are incredibly sophisticated and our marketing needs to be as well.
IG - How will the current Embed brand renewal leverage the vitally important experience economy for itself and its clients?
Paz - Embed's brand renewal focuses 100% on the guest experience enabled by our integrated business platform (SaaS) for both the guest and operator. The very core of Embed's marketing strategy is inspired by Pine and Gilmore's Experience Economy. By focusing on offering business solutions (Embed's Toolkit and range of modules, combined with Kiosk and smartTOUCH readers) that enable every touch point of the consumer journey, it drives immediacy to the immersive experience, which is everything to the guest. Our business solutions enable operators to meet the needs and expectations of their guests, while getting crystal clear visibility of every aspect of their business and how it's performing, so they can modify and tweak their offering (various bundles and price-points by hour, day, and week) to maximise consumer spend while optimising operational efficiency. When our customers thrive, we thrive.
IG - Finally, cats or dogs?
Paz - Both! I'm a hopeless animal lover! I take great pride working with various organisations who dedicate themselves to helping the helpless and giving a voice to the voiceless. In Singapore, I have three pooches I rescued from Thailand. There are other rescue experiences I will never forget, like Shiro, an injured puppy I found in Thailand; she'd been hit by a car and after going through rehab at Soi Dog Foundation, a friend in Philadelphia adopted her and she's now living in Philly, eating far too many famous Philly cheesesteaks. "Making the world a better place, one pooch at a time" that's my motto!