It came as a considerable surprise to me that Play Meter was closing its doors. The American coin-op monthly has been going since, I think 1974 or 1975 but its owner, Carol Lally, has decided that enough's enough and wants to spend more time with her family.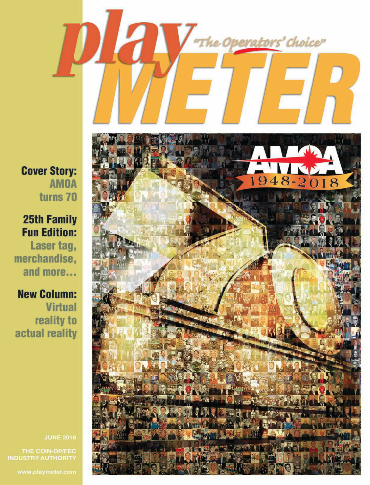 It still surprises me that there was no evidence that Carol was attempting to sell the publication – at least no-one approached us at InterGame, although initially when rumours started to circulate we were asked whether it was true that InterGame was buying Play Meter. It was the first we'd heard about the possibility of an American icon ceasing publication.
We can go back to the American trade show – the only one around in those days, the MOA (Music Operators of America) – held at the Conrad Hilton Hotel in Chicago. I went to that show to cover it for the UK's Coin Slot and met a great many American operators, including one Ralph Lally.
Ralph was a salesman for a New Orleans-based operator, seeking street market sites for games. I met Ralph and his new wife, Carol, at one of the many evening receptions held by suppliers around the city during the show.
I can distinctly remember saying to Ralph that I couldn't understand why there was no specialist coin-operated games publications in the US. It had Cash Box, of course, but that was primarily a music publication with a strong juke box section and a passing interest in games because operators positioned both into locations. I remember saying: "We manage to have a weekly newspaper for the UK industry, but our industry is a fraction of the size of yours….so surely a US publication would be viable….".
I won't claim credit for starting the US market in coin-op games publications, but within a year Ralph had started Play Meter, and within a matter of weeks I think it was, Eddie Adlum had started RePlay to compete. To be fair, Eddie had been a specialist journalist in the field for many years already, working for Cash Box, so he was ideally-positioned to start up and run with the idea immediately.
The two publications have existed side-by-side ever since, each claiming its own dedicated following and each responsible for different milestone initiatives.
I remained a friend of the Lally's for years, always meeting up with them for dinner during one of the American shows. That friendship continued with Carol after Ralph was tragically killed in a car crash in, I think, 1986.
We can all sincerely hope that Play Meter can be resurrected and continue to campaign on behalf of the industry in North America; and that Carol enjoys the extra time that she will now have with her family.