Fast-growing igaming business Checkd Media has recruited Sam Allardyce to help promote daily fantasy sports platform FanTeam's £100,000 Second Chance Season Game.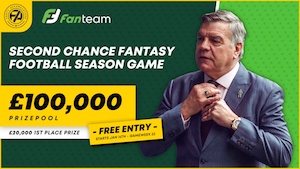 Former England manager "Big Sam," who has made a career out of restoring order at troubled English Premier League clubs, is the face of the campaign's branded content.
It highlights the fantasy Premier League tournament covering the remainder of the 2021-22 season, offering players a renewed shot at success. The content created by Checkd Media includes a range of influencers from high-profile fantasy football social accounts, who are seen posing the biggest questions on the transfer window, and the current state of play in the Premier League to Big Sam.
The first part of the campaign runs up to the start of the Second Chance Season Game on January 14, utilising on-screen branding and mentions within the content to promote FanTeam's unique game and the chance it presents to save players' fantasy football seasons.