Malta-based Sirplay is heading to South Africa for the first time at the BiG Africa Summit in Cape Town this week, which runs from today until Wednesday, October 26.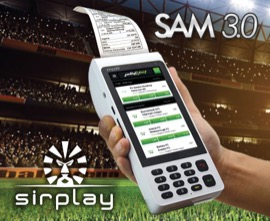 At this year's BiG Africa, Sirplay is highlighting expertise gained from a range of deals with different law firms and licensing consultants that could assist clients seeking a sports betting licence in South Africa and other African nations.
The summit also offers Sirplay the opportunity to launch SAM 3.0 – its Subordinate Agency Machine (pictured) – which enables bookies with an internet connection to place online bets from anywhere in the world using a simple app.
The new terminal has the potential of an Android smartphone equipped with the point of sale and an integrated printer to release bet tickets.