A qualifying leg for the 2020 Toushinsai arcade-focused esports event will take place in Las Vegas, US, for the first time, hosted by Caesars Entertainment in conjunction with Taito.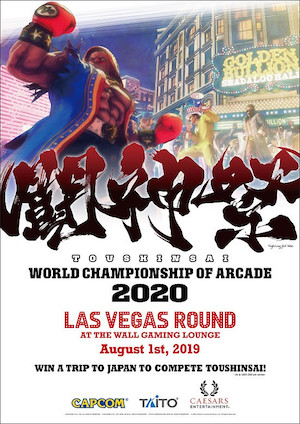 Since 2015, the fighting game-based tournament has been held in Tokyo, Japan, but will this year hold a round at the Rio Las Vegas Hotel and Casino on August 1.
Capcom's Street Fighter V Type Arcade will be the game that competitors will do battle on at the qualifier, which normally pulls in over 6,000 visitors in Japan.
Caesars VP of strategic investment John Linss said: "Caesars Entertainment is excited to host Toushinsai competitors from around the globe. Our company has long fostered the rapidly growing esports industry throughout our resorts and we are happy to be collaborating with Taito to bring their e-Arcade sports qualifier to North America for the first time."
The winning team will receive a "Golden Ticket" to join the finals tournament to be held in spring 2020 in Tokyo, with flights courtesy of Caesars.