Al Akaria Saudi Real Estate Company, one of the largest publicly listed real estate developers on the Saudi stock exchange, is to collaborate with Arabian Dream KSA, principally owned by Triple Five Worldwide, to develop the world's largest mixed use entertainment and shopping centre development of its kind at Akaria's Al Widyan site in Riyadh, Saudi Arabia.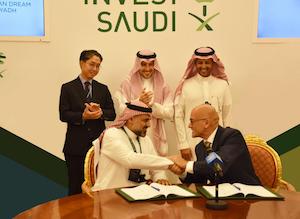 With development costs estimated at US$5bn, this new destination will comprise theme parks, waterparks, recreational and sports facilities, retail dining, shopping centres and hospitality components, coupled with the latest artificial intelligence technology to create a different visiting experience for guests upon completion.
The project is the latest to be announced in line with the Saudi Arabia Vision 2030, which aims to create partnerships between local and international firms to bring best-in-class global business partners to the kingdom.
The Al Widyan masterplan is spread over seven million sq.m and is being designed and developed as a fully integrated mixed-use development and leisure destination based on the principles of wellness and quality of life. Incorporating a blend of carefully planned lifestyle, commercial and entertainment districts and clusters, the first phase launch of the project is targeted to take place in the first half of 2020.
"We are very proud to partner with Arabian Dream and Triple Five on the development of a mega leisure and entertainment destination at our Al Widyan project site," said Aiman Mudaifer, chairman of the Saudi Real Estate Company. "With the proven track record of Triple Five in developing such projects and creating new experiences for its visitors, we are confident that, once completed, it will become a new destination for residents of Riyadh and visitors to Saudi Arabia. Through this project, we are also proud to play an active role in contributing towards Saudi Arabia's Vision 2030."
Jason Lucas, vice president of Triple Five and CEO of Arabian Dream said: "Arabian Dream will have components of their other successful tourist destinations, but in this global destination, guests will experience them all in a safe indoor environment all combined in one place under one roof."
Triple Five is the owner and developer of the three biggest retail and entertainment centres in North America - Mall of America, American Dream and West Edmonton Mall.